Thorough preparation is the key to success. We can help you promote your SMTconnect appearance and provide you with a range of marketing options and visuals for social media.
SMT Insights: Present yourself as a content driver in electronics manufacturing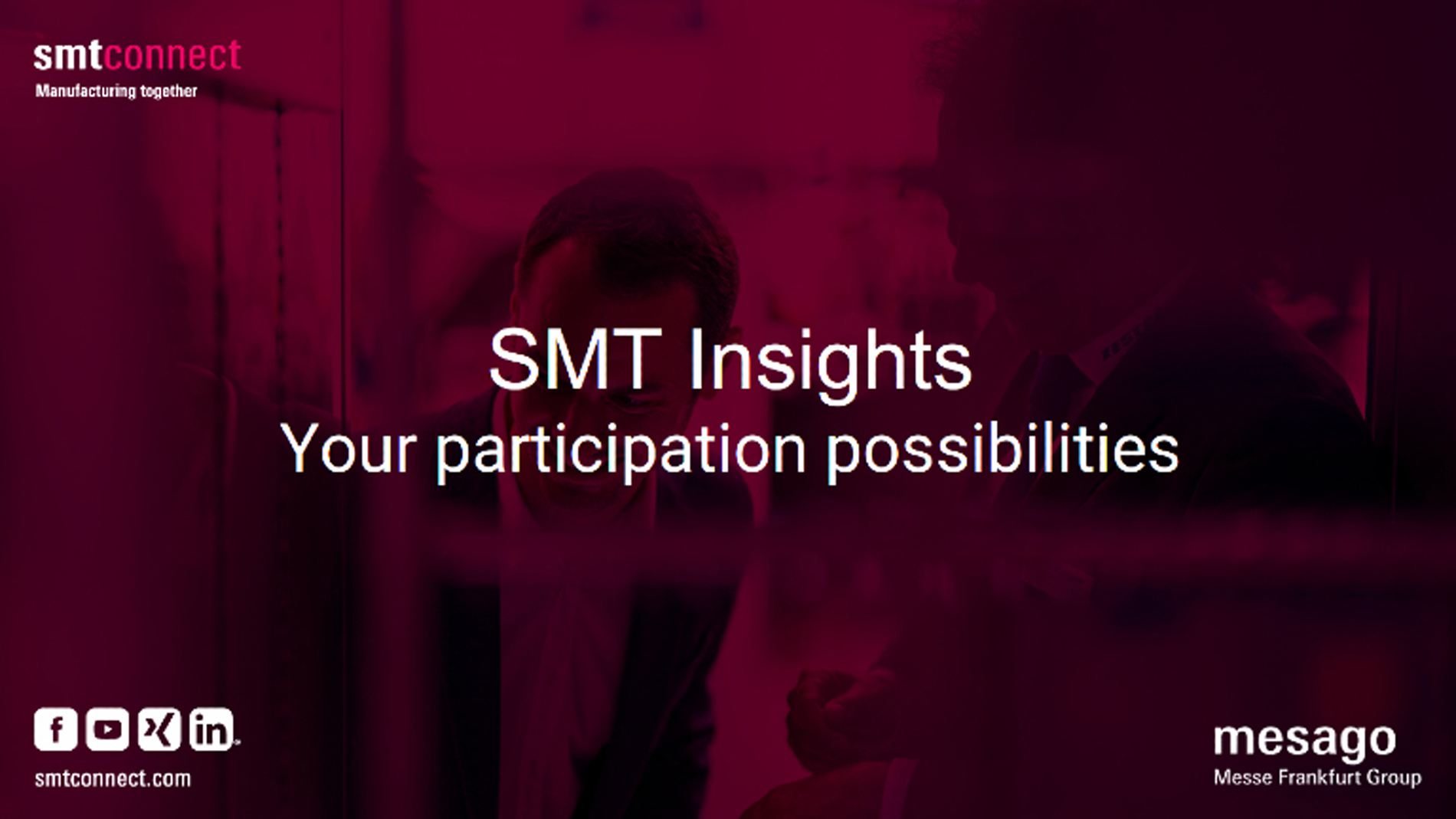 The SMT Insights, the content platform of the SMTconnect, offers a wide range of insights into industry topics, trends, challenges and product innovations.
In both German and English-language text or video contributions and presentations, both digitally and on-site, the pacemakers of electronics manufacturing have their say. The combination of content diversity, cross-media orientation and a highly qualified readership makes the SMT Insights unique.
Your advantages
Reach customers and decision-makers 365 days a year
Meet the high demand for information in the industry, regardless of the trade show date
Spread your expertise in the community
Gain attention and reach for your products and solutions by addressing international target groups
Position yourself as a thought leader in electronics manufacturing
 
 
SMT Insights
Starter
SMT Insights
Advanced
SMT Insights
on air
SMT Insights
on stage

Your text contribution on smtconnect.com

incl. pictures, links, downloads, contact
x
x
 
 
Additional videos
 
 
x
 
 
Digital presentation
at the SMT Insights on air
 
 
x
 
Presentation at the exhibition forum
at the SMTconnect
 
 
 
x
Publication of the presentation
on smtconnect.com
 
 
x
x
Logo overlay
during the presentation
 
 
x
x
Promotion
on LinkedIn, Facebook
x
x
x
x
Banner in the article overview
of the SMT Insights
 
x
x
x
Price for exhibiting companies
 
380 Euro
780 Euro
1,190 Euro
1,280 Euro
Price for non-exhibiting companies
 
690 Euro
1,290 Euro
1,750 Euro
1,950 Euro
The marketing contribution – overview of all services
The marketing contribution, which each main exhibitor has to pay with their registration to the event, offers numerous services you can make use of in order to highlight your business.
Co-exhibitors can optionally book the marketing contribution in order to optimize their presence before, during and after the event.
For the price of 490 Euro plus VAT you will get the following services: