At the focused joint stands, companies can reach a broad specialist audience and inform visitors at attractive conditions and with special advertising. Another visitor highlight: the Fraunhofer IZM production line.
"Future Packaging" production line
In 2019 there will again be the successful "Future Packaging" live production line organized by the Fraunhofer IZM. The line will showcase the entire assembly process, including the subsequent test procedures. Live demonstrations will take place several times during the entire duration of the exhibition. Visitors can inform themselves about technologies, ask their questions and discuss challenges with experts within the framework of the annual thematic focuses.
Hall 5, booth 5-434
Time waits for no man – and the same seems true for the pace of innovation in electronics. Be it Industrie 4.0, the IoT, or the IoP: Every square inch of our private and professional worlds is being taken over by new hardware, set to make everything more efficient and more comfortable. The internet as we know it, invented to be a means of sharing information, is going through a paradigm change and evolving into an intelligent bus system for all kinds of monitoring, sensor, or control signals. Many, if not most modern electronic systems operate to a large degree on a distributed basis. The place where data is recorded or created is different from the place where that data is processed, and different yet again from the place where physical actions happen as a result. Each entity in this chain is housed in a different device or package, designed to match the requirements of their specific environments and only connected to each other by the intangible links of the internet.
With each component in the system physically separate and technically independent, development cycles are accelerating greatly for a vast range of use cases. What they all have in common is the need for a new level of connectivity for data and signals. 5G has the potential to spark new progress at record-breaking pace, made possible by greater bandwidth and better coverage.
For manufacturers, this means a need for new and more efficient machines, processes, and technologies that can keep pace with the scalability and flexibility of the new technological opportunities.
The production line at the "Future Packaging" exhibit will give visitors at SMTconnect 2019 a first-hand experience of how efficient and robust processes and technologies can be achieved with a maximum of flexibility. All members of the collective exhibit are fully aware of their responsibility for working closely with their clients to solve the challenges in the market - Questions and discussions are welcome and encouraged.
Live production with tour
Live demonstrations will take place several times during the entire duration of the exhibition in German and English:
| | | | |
| --- | --- | --- | --- |
| Tuesday, 7 May 2019 | 10 a.m. (German) | 1 p.m. | 3 p.m. (German) |
| Wednesday, 8 May 2019 | 10 a.m. (German) | 1 p.m. (German) | 3 p.m. |
| Thursday, 9 May 2019 | 10 a.m | 1 p.m. (German) | 3 p.m. (German) |
Technology breakfast
The team of the production line offers visitors a technology breakfast, each day from 9:15 a.m. – 9:45 a.m. Discuss efficient production solutions and trends with experts over coffee and hearty snacks.
Process overview and technology consulting
Special: Wednesday, 8 May 2019, 3:30 p.m.
Discussion with representatives of Fraunhofer IZM and SAP about the following topic:
Impacts of data mining, data warehousing, and networking on the future of manufacturing (in German).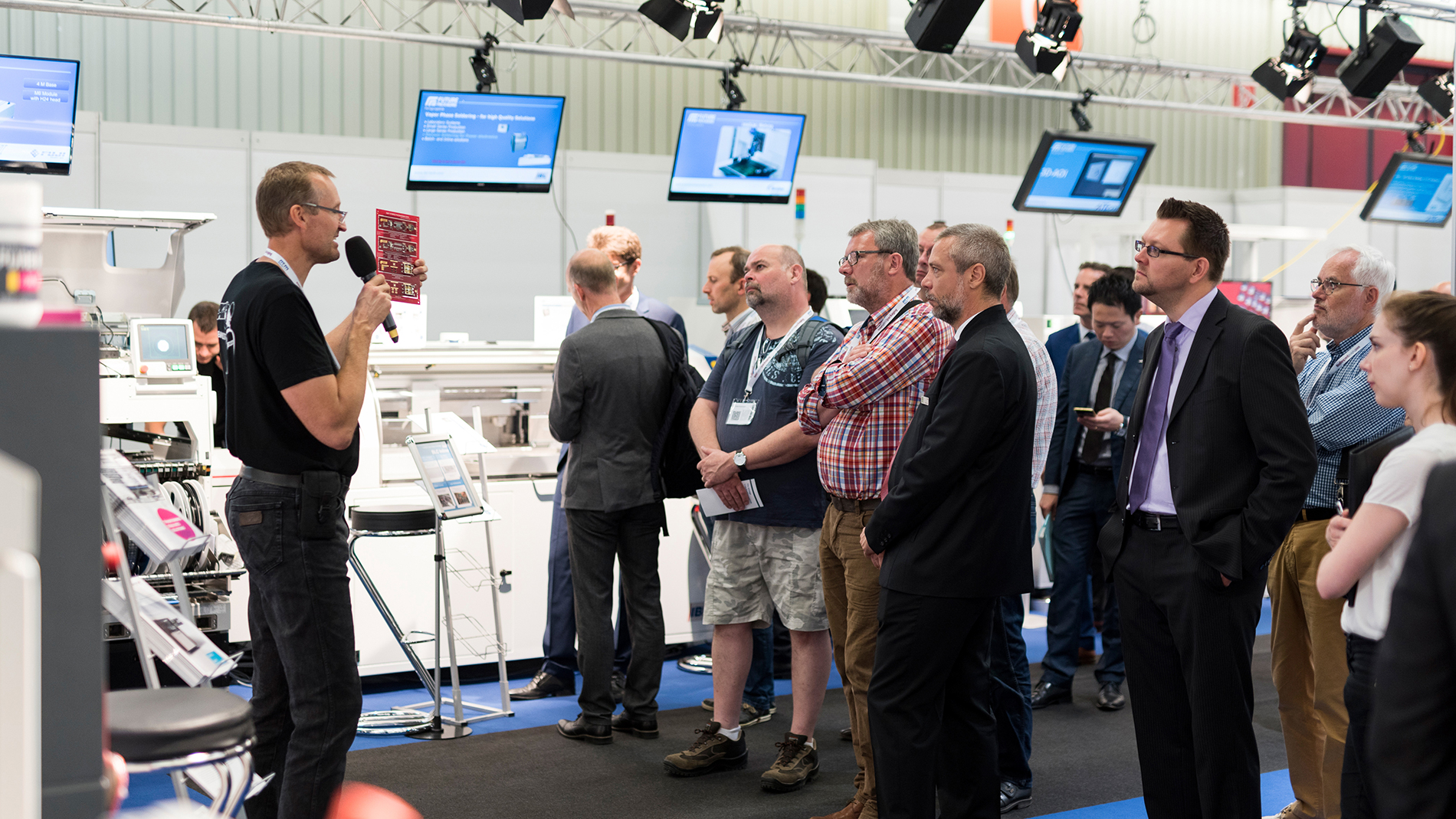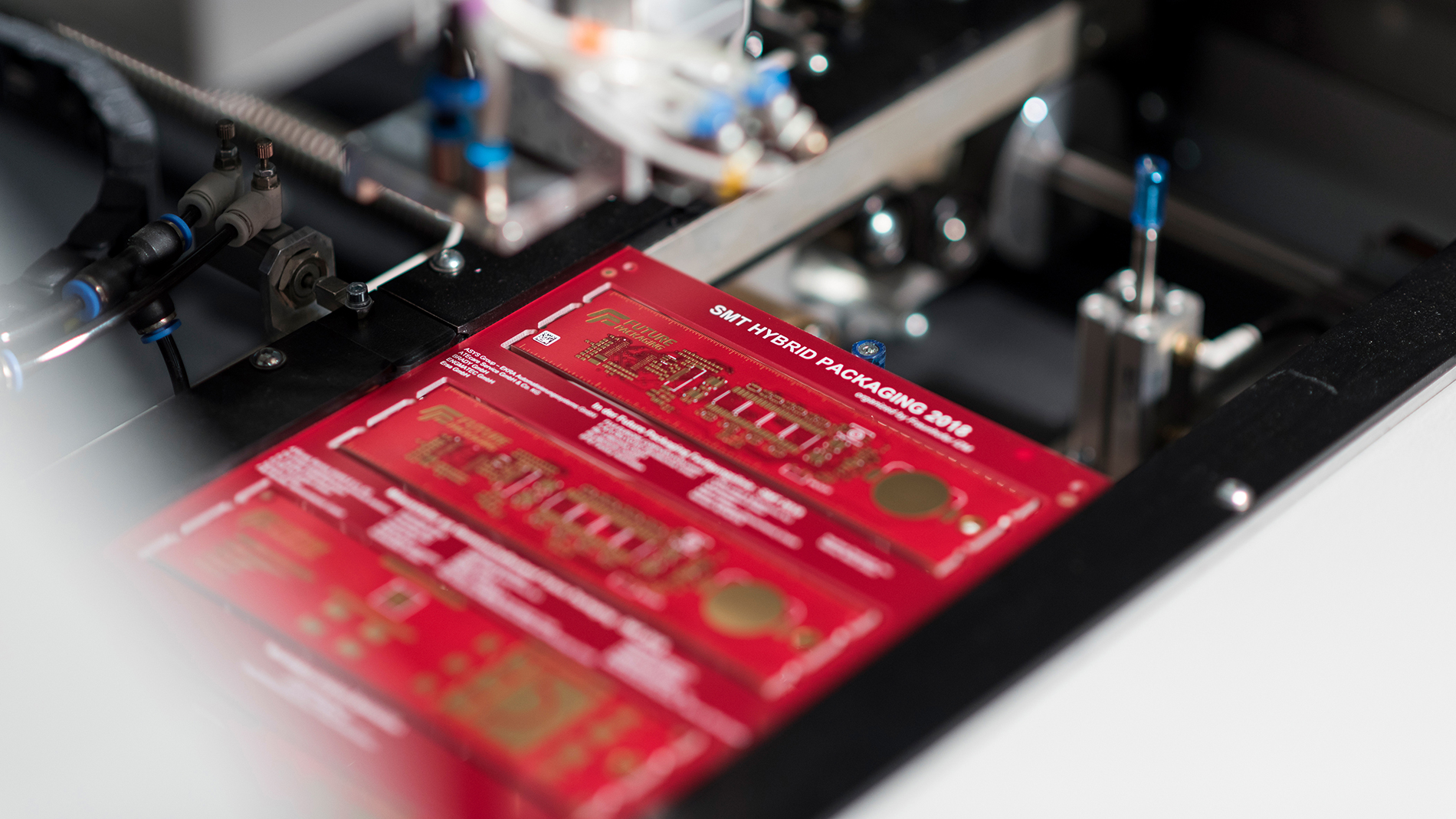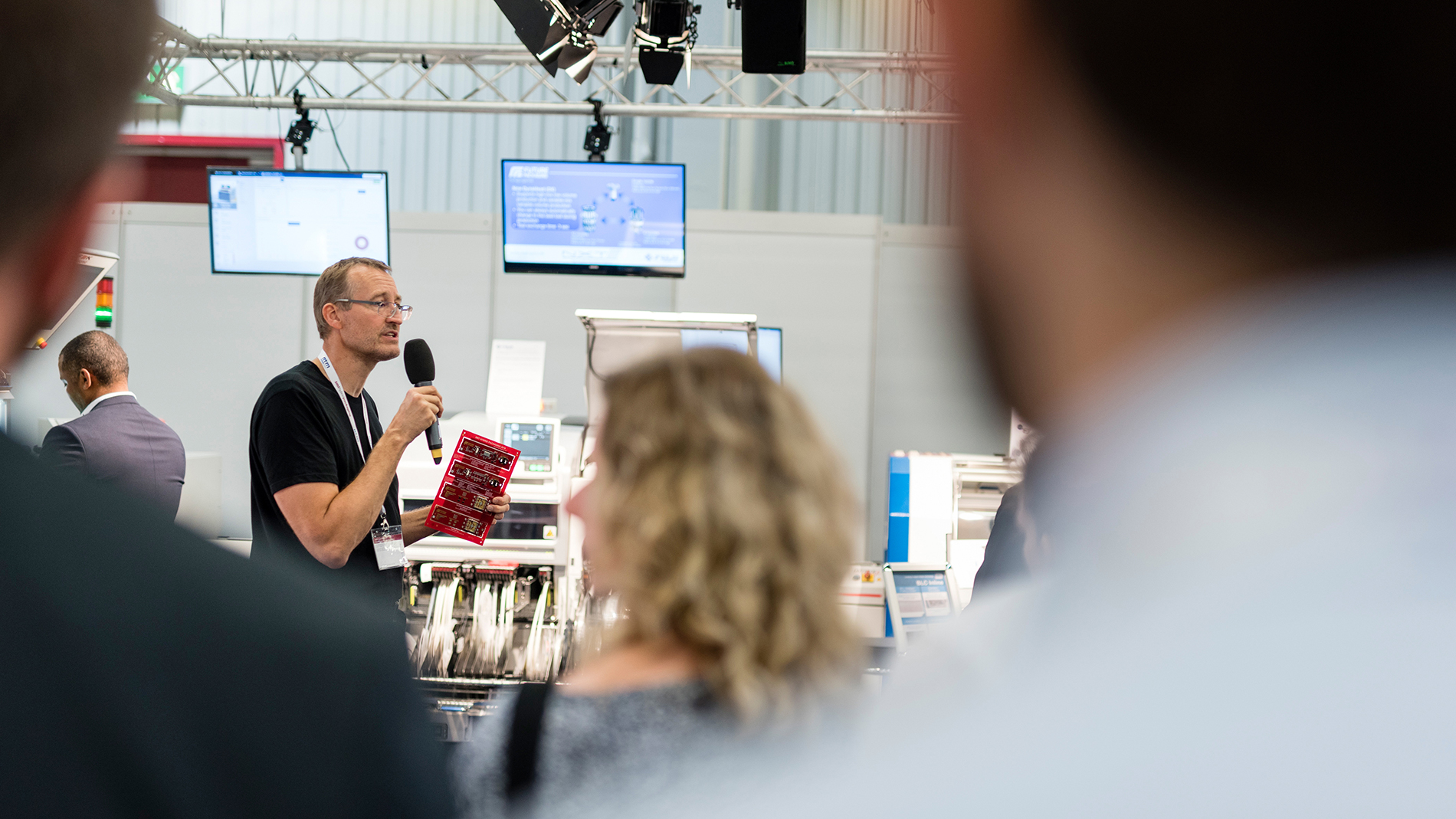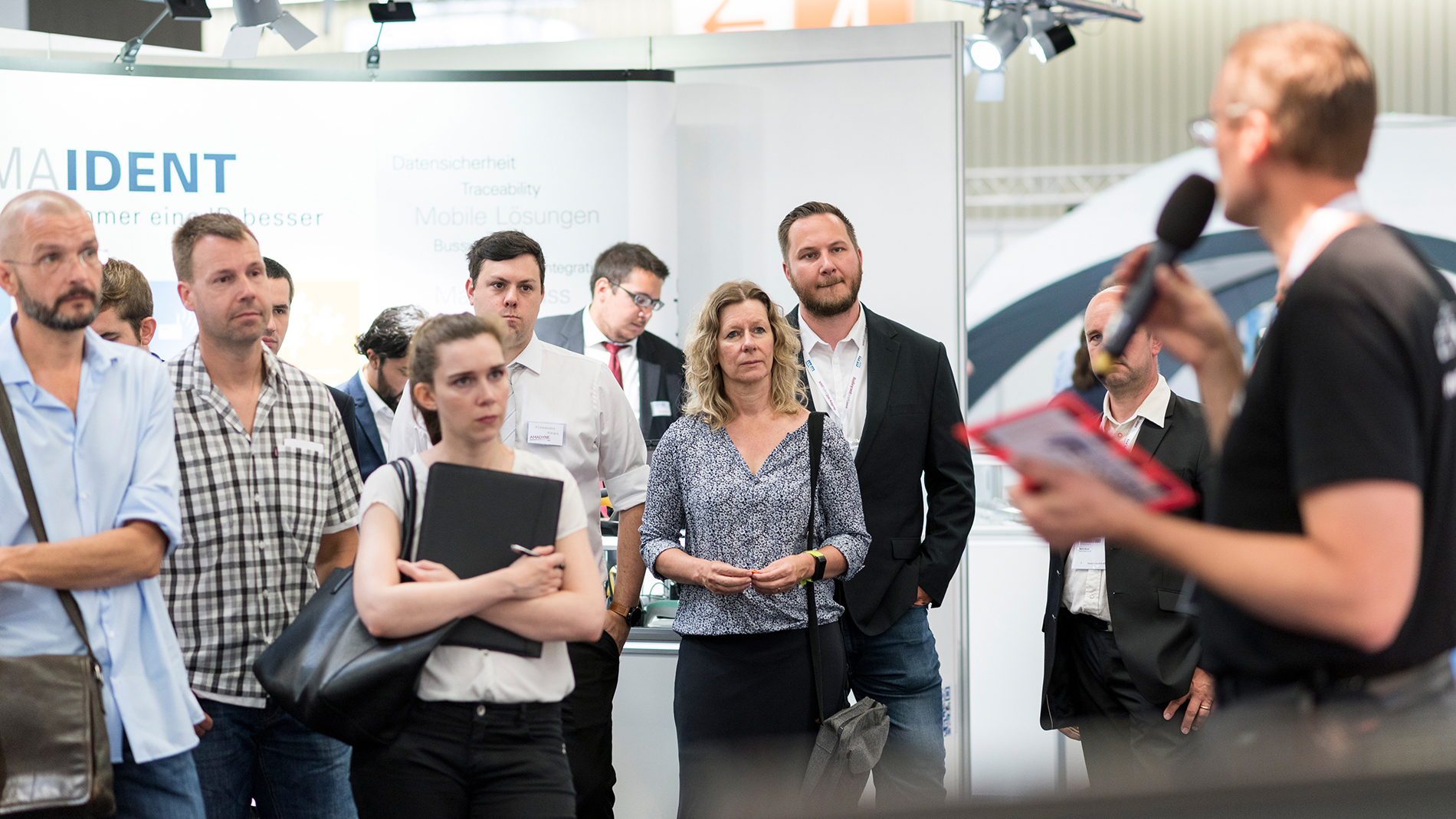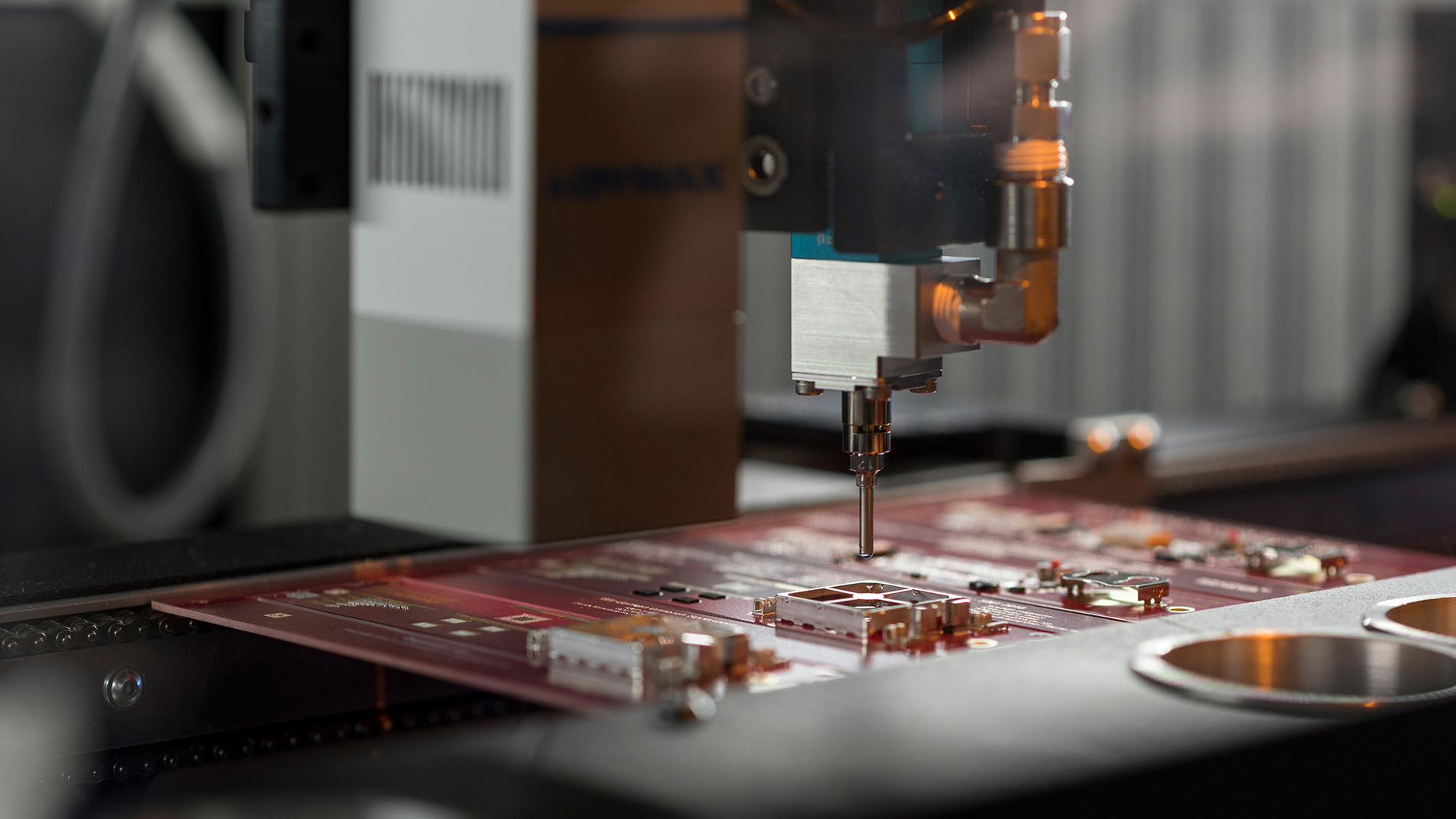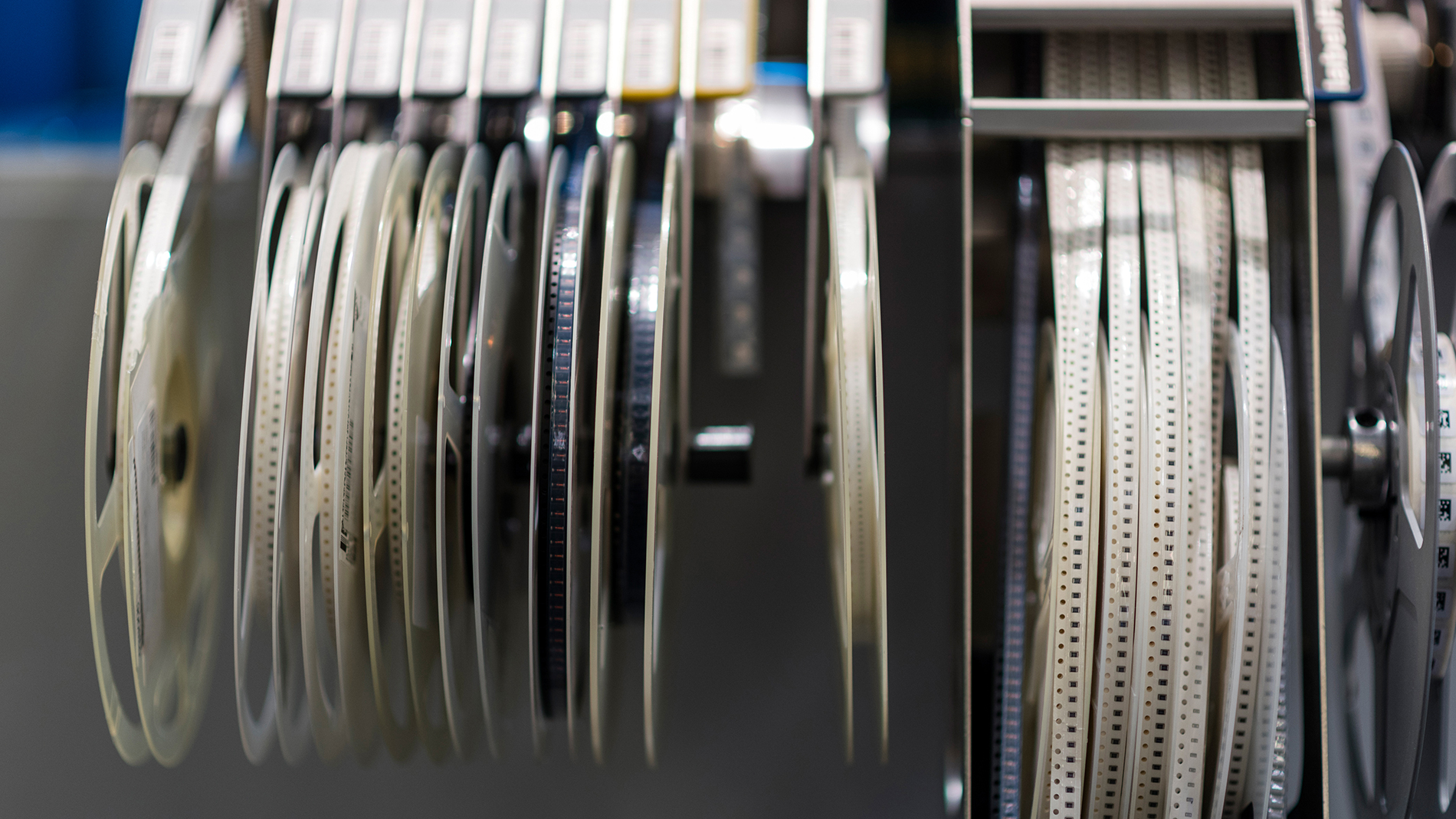 Special showcase area "EMS Park"
On the newly staged special show area EMS Park you will meet exactly the right people for your business success in a familiar atmosphere when it comes to contract manufacturing. With its close-to-nature, open design with many plants and benches, the EMS Park has been designed with a focus on relaxed, yet efficient networking opportunities. The centre of the showcase area will host an attractive Networking and Catering Area. In addition, numerous seating and charging stations are available inviting you to pause and exchange ideas. Confidential talks can be held in the private meeting spaces. There will also be a small Speakers' Corner providing exhibitors with the chance to present their topics and solutions.
"Newcomer Pavilion" joint stand
The Newcomer Pavilion gives companies a platform to present their products and solutions for the first time as exhibitors at the SMTconnect. Get an overview of various industry or event newcomers and make valuable new contacts here.
"PCB meets Components" special interest area
Are you interested in printed circuit boards, components and materials? In the special interest area "PCB meets Components" you will find suitable solutions and products. Thanks to the thematic concentration on this area, you will find the right contact persons in no time at all.
Da-Chung Contact Probes Enterprises Co. Ltd.
DP Patterning AB
DYCONEX AG
EILEEN & JASON Technologie GmbH
EIPC European Institute of Printed Circuits
IMDES CREATIVE SOLUTIONS
Ming Chiang Precision Co., Ltd.
Richter Elektronik GmbH
SAFA2000 GmbH
technoboards Kronach GmbH
Vayo (Shanghai) Technology Co., Ltd.
To the exhibitor list with all participating companies at SMTconnect 2019
Joint stand Start Up Area
The new joint stand "Start Up Area", which is organized in cooperation with the VDMA sector association Electronics, Micro and Nano Technologies and the VDMA Startup-Machine, offers upcoming companies the possibility to present themselves to the industry. Discover new ideas and solutions for your daily challenges.