SMTconnect is the only event in Europe that brings together people and technologies from the areas of development, production, services, and applications in connection with microelectronic assemblies and systems.
Profile and topics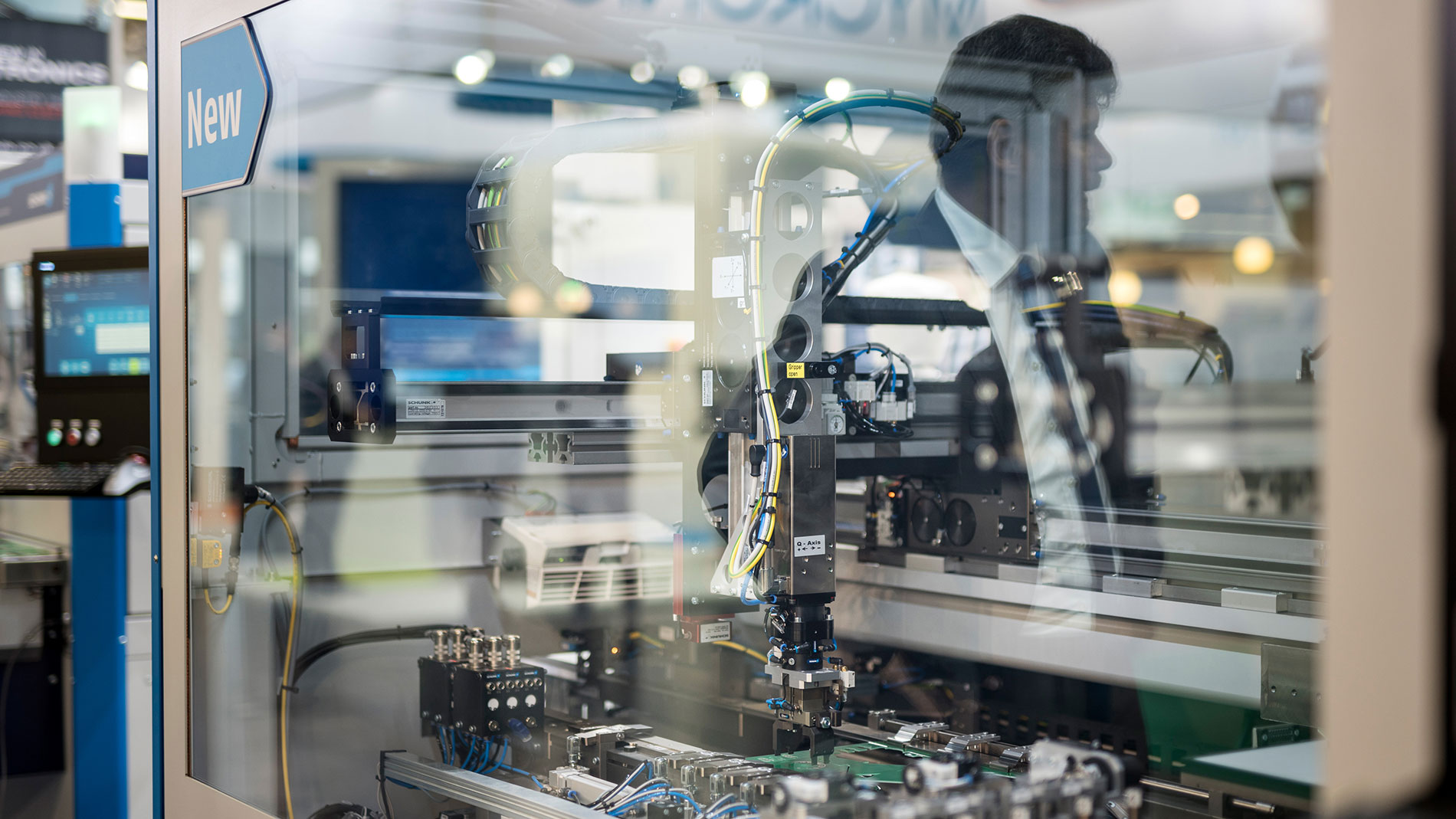 This event follows the motto "Manufacturing together" and provides an ideal setting for sharing ideas within the electronics community, developing tailored solutions for electronic assemblies and systems, laying the groundwork for business deals, and honing your expertise.
The SMTconnect strives to be a meeting place for all the areas involved in microelectronic production, including electronic manufacturing services (EMS). In doing so, the exhibition focuses on the following subjects:
System development and production preparation
Materials and components
Processes and manufacturing
Reliability and test
Software and production control
Impressions
Leiterplatten in einem Transportrahmen zur Reinigung
Alois Mahr, Zollner Elektronik AG zu "Digitale Transformation in der modernen Elektronikproduktion"
Gesprächssituation an der Fertigungslinie "Future Packaging" mit Kurtz Ersa GmbH
Bestückungsautomat Z:LEX YSM20R von YAMAHA MOTOR EUROPE N.V.
3D-Inspektionssysteme, Röntgeninspektion und Lötpasten-AOI von Omron Europe BV
Live-Produktion und Führung an der Future Packaging Fertigungslinie, organisiert vom Fraunhofer IZM
Gesprächssituation am Stand von Rehm Thermal Systems GmbH
Messegeschehen in Halle 4: Panasonic Industry Europe GmbH, JUKI Automation Systems GmbH und mehr
VALTRONIC Technologies (Suisse) SA zu "Mikroelektronische Anordnung für miniaturisierte Medizinprodukte" auf dem Speakers' Corner
GermanRobotics auf der Sonderschaufläche Cluster Mechatronik & Automation
Application industries
At the SMTconnect, visitors from the following sectors will find solutions:
Academic institutes
Air- and spacecraft industry
Automobile engineering
Chemical industry
Computing electronics
Consulting
Consumer electronics
Development services
Editors, publishers
Electronic Manufacturing Services (EMS)
E-mobility
Industrial electronics
Medical electronics
Microelectronics
Optoelectronics
Rail and traction
Telecommunication