Modern Flying Probe Testers (FPT) meet this main requirement today. Just like TAKAYA's system, such systems are advantageous when many product variants have to be tested. The testing speed of the FPT has been significantly improved in recent years, which is why the systems are being used increasingly in series production. Their easy integration into automation processes also provide decisive advantages.
The systems can be used both as fully automatic in-line systems and in combination with a loading and unloading station. The barcode will initiate the device change and the test results are sent directly to an MES system, e.g. as an XML file.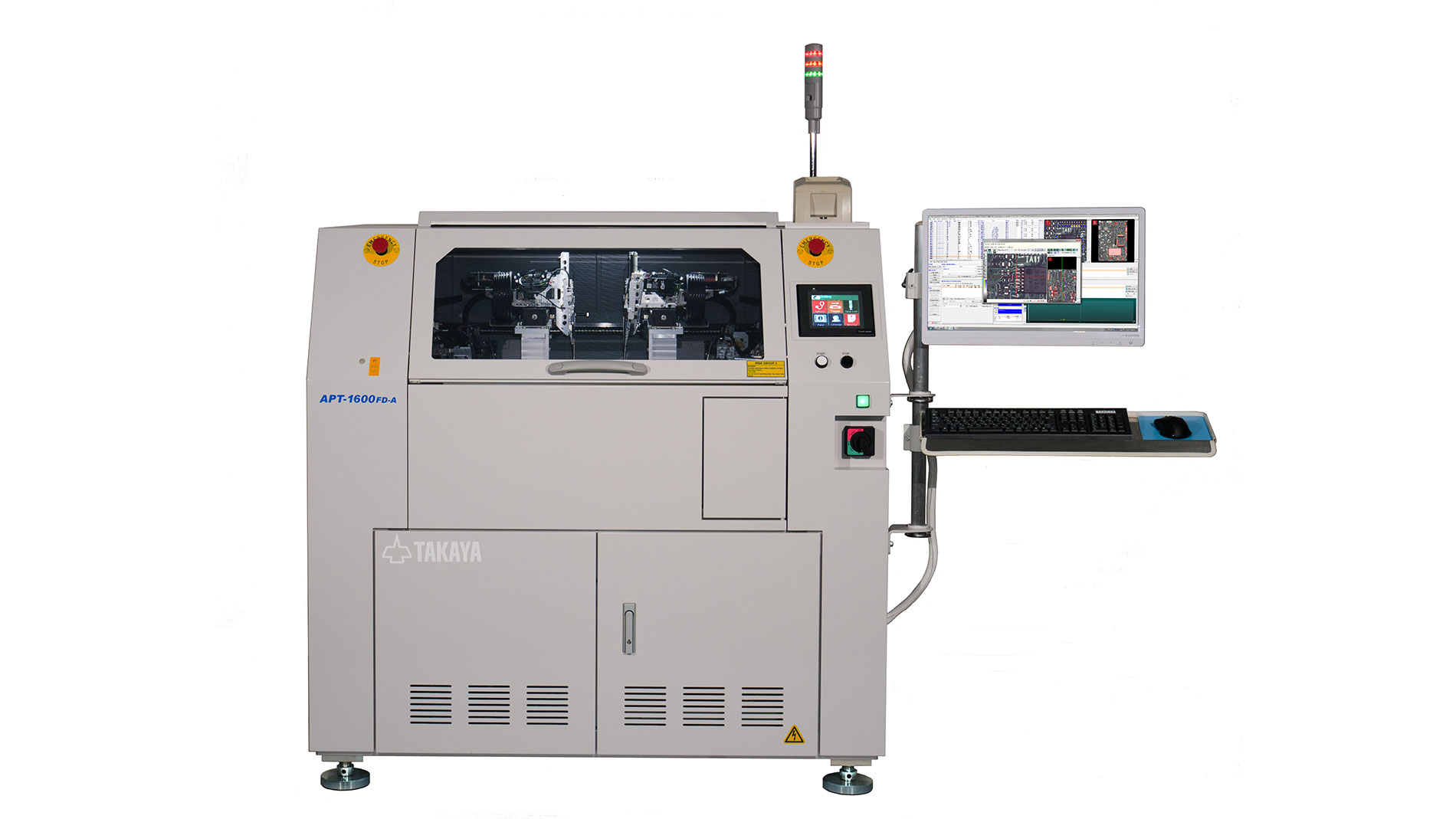 The fast and cost-effective generation of test programs, the improved test speed and the large test coverage have significantly extended the range of applications of the TAKAYA-FPT. There are six movable probes on the upper side and up to four on the bottom side. On both sides, vertical probes at a 90° angle can be used for access between high components. The large test area of 540 x 468 mm on the top side is also available on the bottom side. A laser height measuring system detects the warping of the printed circuit boards and automatically corrects the positions of the probes in both X/Y and Z directions to maintain constant contact pressure. The laser height measurement system can also be used to measure component heights. This allows reverse polarity plugs to be identified by the notch or missing or tilted components to be detected.
LED testing is also becoming more and more important. For that reason LED sensors are mandatory in the test process. In the double sided test system, two sensors are located on the top side and two sensors on the bottom side.
The measurement methods were also supplemented by a new type of signature analysis, Net Signal Wave Analysis (NSW). This signature analysis can enhance the test speed significantly, but can also increase the test coverage, especially in the area of the short circuit test.
With these systems, users welcome the fact that the tests are also possible even without test points, do not require an adapter and can be implemented very quickly. In order to achieve the greatest possible test coverage, a wide variety of functional tests can be integrated and bus communications can be simulated. 
"The FPT is a cost-effective test method - even for complex assemblies and small batch sizes."
Tags
Quality management
Manufacturing
Assembly
Circuit board