So what options does a user have today? A fairly simple packaging option for good ESD protection is still air bags or bubble wrap. These can be procured cheaply in large quantities. Unfortunately, the shelf life of these ESD protection materials is limited and the downstream costs should not be underestimated. This is because efficient handling cannot usually be implemented, and the materials used unfortunately do not have a good eco-balance.
In contrast, other plastic-based packaging concepts such as thermoformed trays, compartments or foams perform well in terms of handling. They also have some other advantages, such as high stability and weather resistance. However, sustainability, the often comparatively high procurement costs and longer delivery times remain a major drawback.
An environmentally friendly alternative is offered by ESD packaging, which is made from recyclable materials such as cardboard or corrugated board. Cardboard packaging can also have an antistatic effect thanks to special coatings and thus serve as effective protection against electrostatic discharge just like packaging made of plastic. In addition, due to their stability, ESD cardboard packaging can be reused as reusable packaging for ESD protection. Good ESD solutions made of corrugated board have already been available for several years. This material is ideally suited for many areas of application. Another advantage is the low manufacturing costs, even for comparatively small requirements.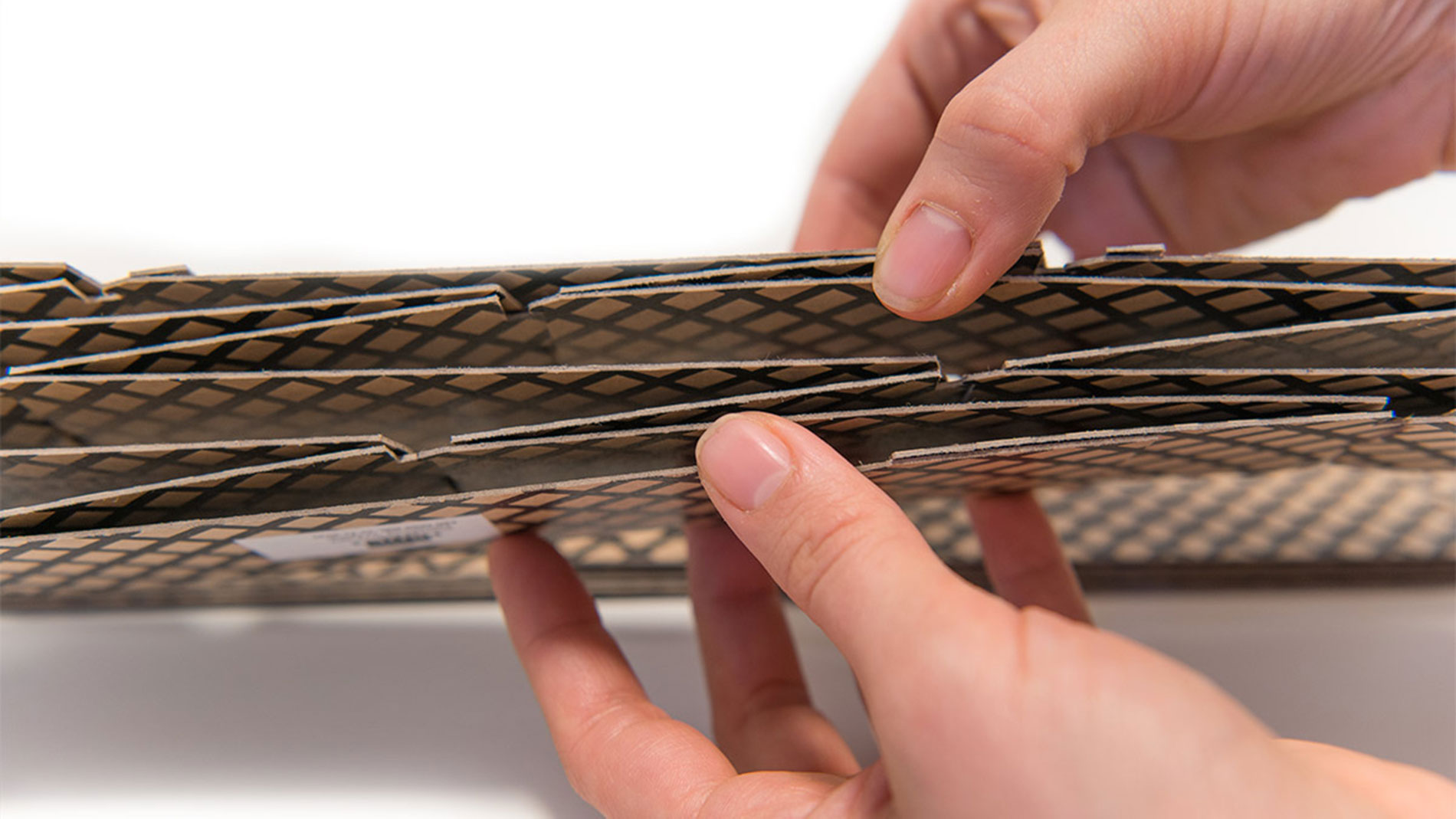 In addition to environmentally friendly ESD packaging solutions made of corrugated board, ESD concepts made of solid board have recently become available (Fig. 1). Solid board is nothing new in itself - but the material has not yet been consistently developed for ESD applications. The material is particularly suitable for compartments, lattice compartments or webs. Packaging with compartments produced from solid board is convincing in terms of environmental protection and production costs. They are produced from recycled material with the addition of virgin fibers and are therefore environmentally friendly and conserve resources. They can be returned to the recycling loop at 100% and a major advantage is that they take up very little space when folded, which is particularly noticeable when larger quantities are purchased.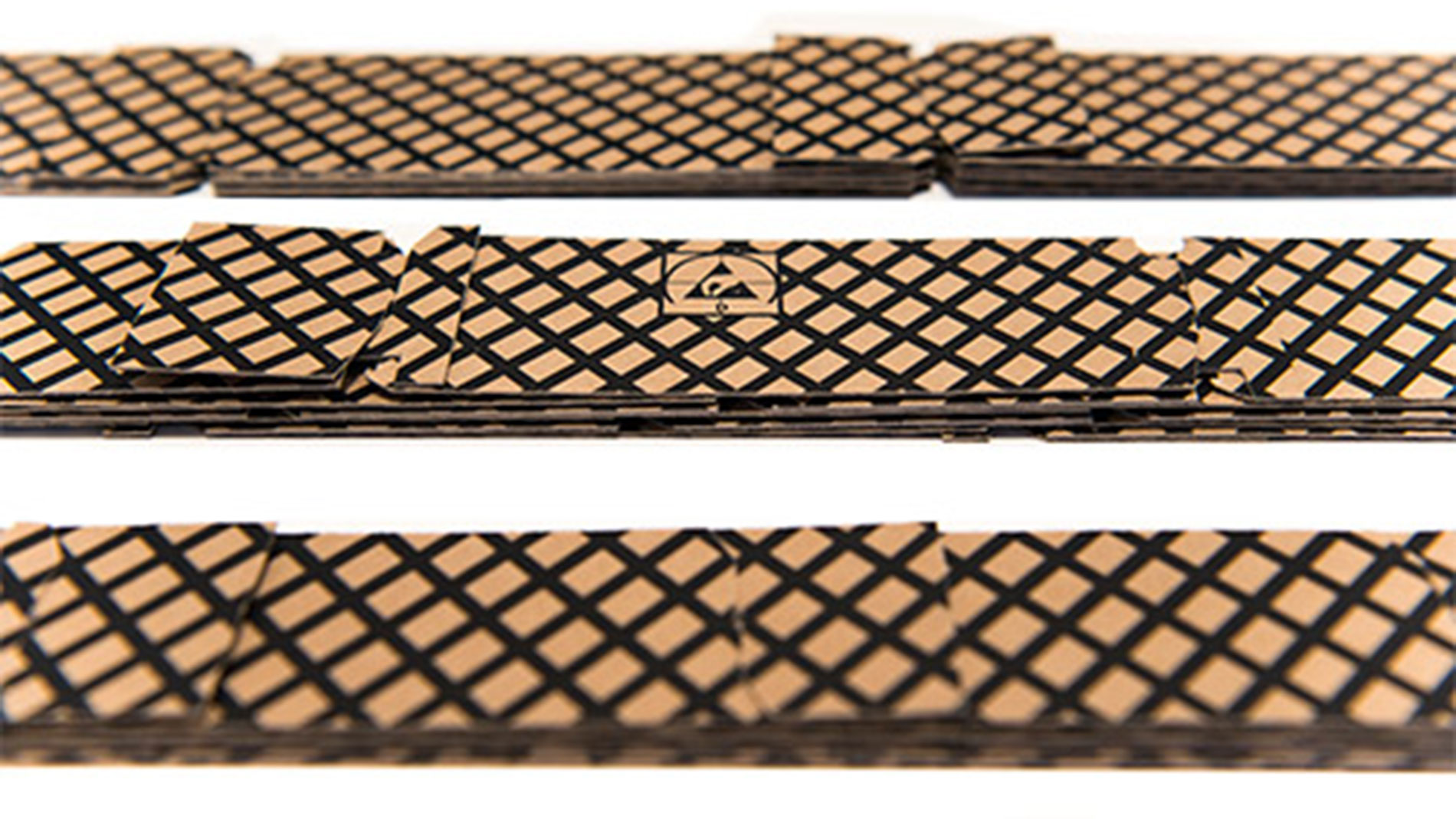 In addition, in contrast to compartments made of corrugated board, they are significantly less dusty and are therefore in some cases more suitable for electronic applications. No tooling is required for the production of solid board compartments, which means that no additional tooling costs are incurred, even in the case of subsequent adaptations, and production costs can thus be kept low. Another advantage of ESD solid board trays, and also corrugated board trays, is that they can be prefabricated (plugged) (Fig. 2). At the workplace, these are then simply pulled on and are immediately ready for use.
"ESD solid board is a real alternative to the familiar material designs. The reduced dust generation, space-saving packaging and favorable manufacturing costs enable users to achieve environmentally friendly and economical ESD solutions - also because no aluminum coatings are used, as is the case with some corrugated board products."
In the medium term, there will be further areas of application for ESD solid board beyond the compartment segment. Here, the lower material thickness can be optimally used especially for very small packaging dimensions. In this respect, ESD solid board offers users many development possibilities, including the option to realize suitable packaging materials for the respective product and the individual process.
Related links
www.froeb-verpackungen.de
ww.esd-verpackung-hersteller.de

Publishing date
26 February 2021
Tags
Packaging and transport
Recycling and environmental protection
Storage