Despite the continuing trend towards automation of manufacturing processes, more soldering is still done manually today than was assumed. This is predominantly due to the fact that there have hardly been any alternatives up to now. Classic areas for manual soldering are small series, prototype construction or when selective soldering systems cannot be used due to the soldering task. An alternative here is a new soldering robot that also takes into account the increasing, reproducible quality requirements in electronics manufacturing - for spot or line soldering or for THT solder joints. One application where classic selective soldering systems reach their limits is, for example, when cable strands are to be soldered to a board. Here, a selective soldering system with a spot nozzle or mini wave is not suitable because the stranded wire cannot be fixed to the contact surface when soldering to the underside of the board. Such tasks are then usually done manually afterwards. And here we come to the next restriction, because this is not allowed in some industries, such as the automotive supply industry. Large manufacturers of communication and multimedia applications in vehicle construction are therefore also increasingly turning to soldering robots. Workpiece carriers and adapters matched to the assembly help to fix the assemblies and, in the case of cables or other flexible materials, to position them at the soldering point. These supporting tools are usually custom-designed to fit the specific application.
"Other advantages include higher throughput and the ability to automate processes," Julian Greß, Product Manager Tools and Rework, Kurtz Ersa, points out as a key aspect. In addition, there is a wide range of applications for these systems. Other areas of application include soldering boards in housings or soldering in cavities.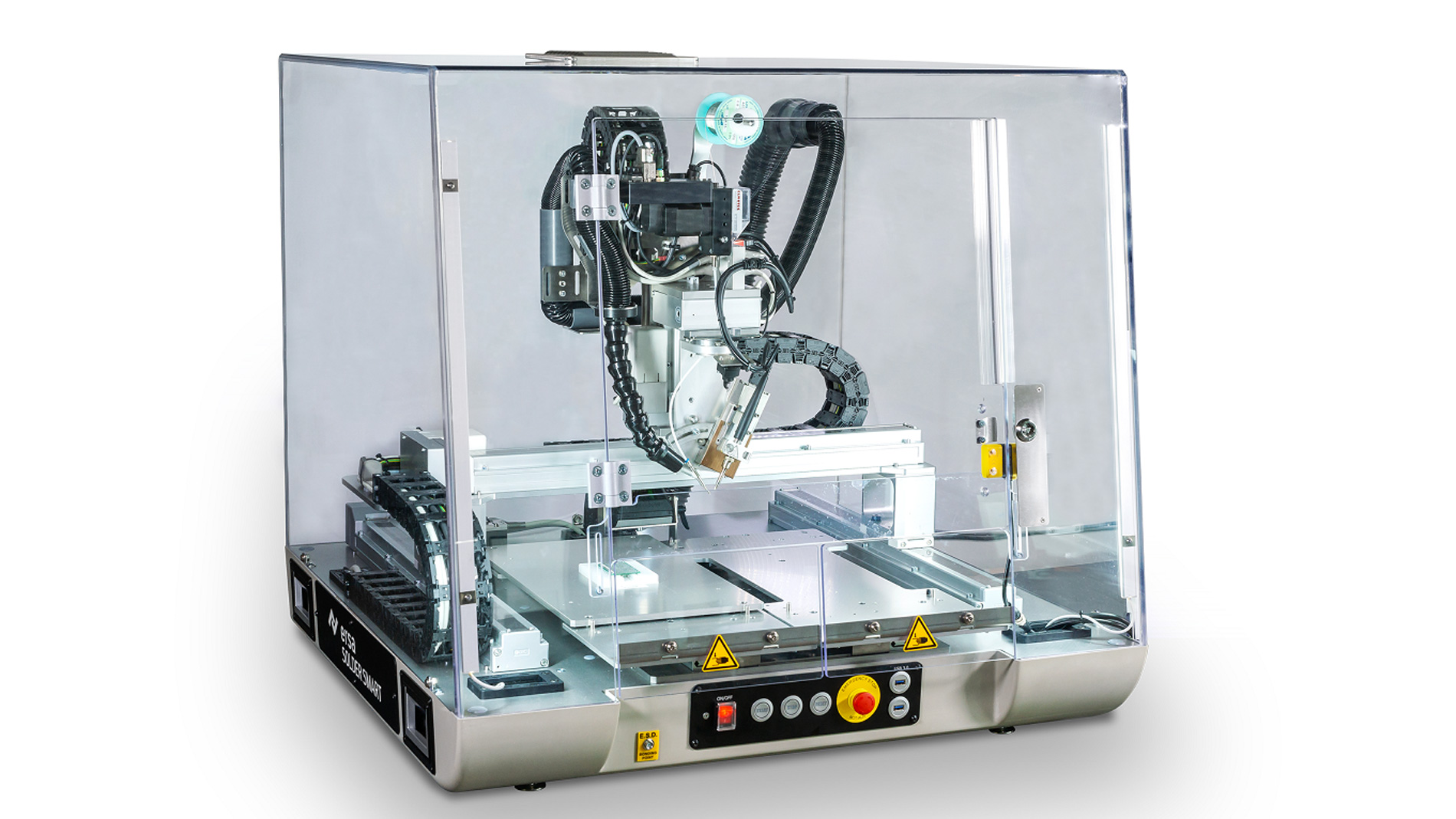 The SOLDER SMART (Fig. 1) has an x-y axis system with a working area of 500 x 400 mm. The soldering tip is precisely positioned at the soldering point via a dual separated z-axis. However, this axis is not operated by a pneumatic cylinder, as is usually the case, but purely electrically. This has the advantage that any desired soldering position can be approached smoothly and steplessly. In addition, the soldering point can be approached from either side by the soldering iron and the wire feeder via a rotary axis. In order to achieve the highest possible throughput, it makes sense to equip the soldering robot with an interchangeable drawer system. While the soldering iron is soldering an assembly, the second drawer can be pulled out of the system and loaded with an unsoldered assembly.
To ensure high soldering quality, the soldering robot is equipped with a soldering tip cleaning system that uses rotating brushes to remove waste solder from the tips before use. The programming of individual soldering, flow soldering with pre-soldered soldering tips at contact distances and the soldering of recurring assemblies in the line soldering process also contributes to the high soldering quality. All processes are monitored and visualized by camera. All process steps are documented and are available for follow-up if necessary. All these features ensure high-quality and reproducible soldering in many application areas where manual soldering was previously used.
Publishing date
11 June 2021
Tags
Automation solutions
Soldering