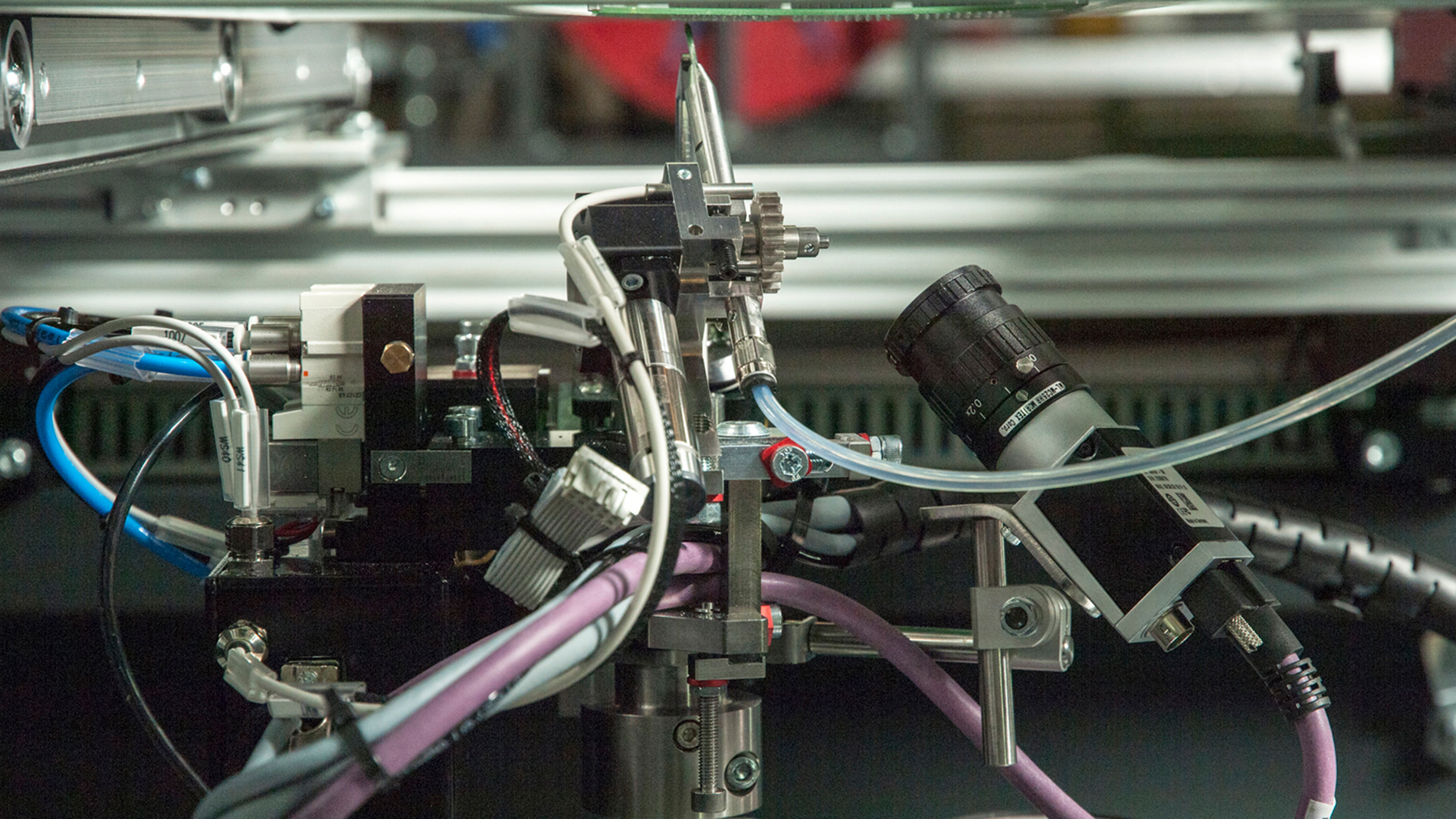 Point to point selective soldering is one of the key competences of Unitechnologies with more than 2800 machines installed worldwide, all achieving perfect soldering process quality.

Miniwave selective soldering machines are used in PCBs mass production line for many years and are able to solder dedicated areas. But often, due to the lack of space with electronic components placed on the bottom of the PCBs, traditional miniwave machines (inline and offline) cannot solder all parts, resulting in additional manual soldering tasks.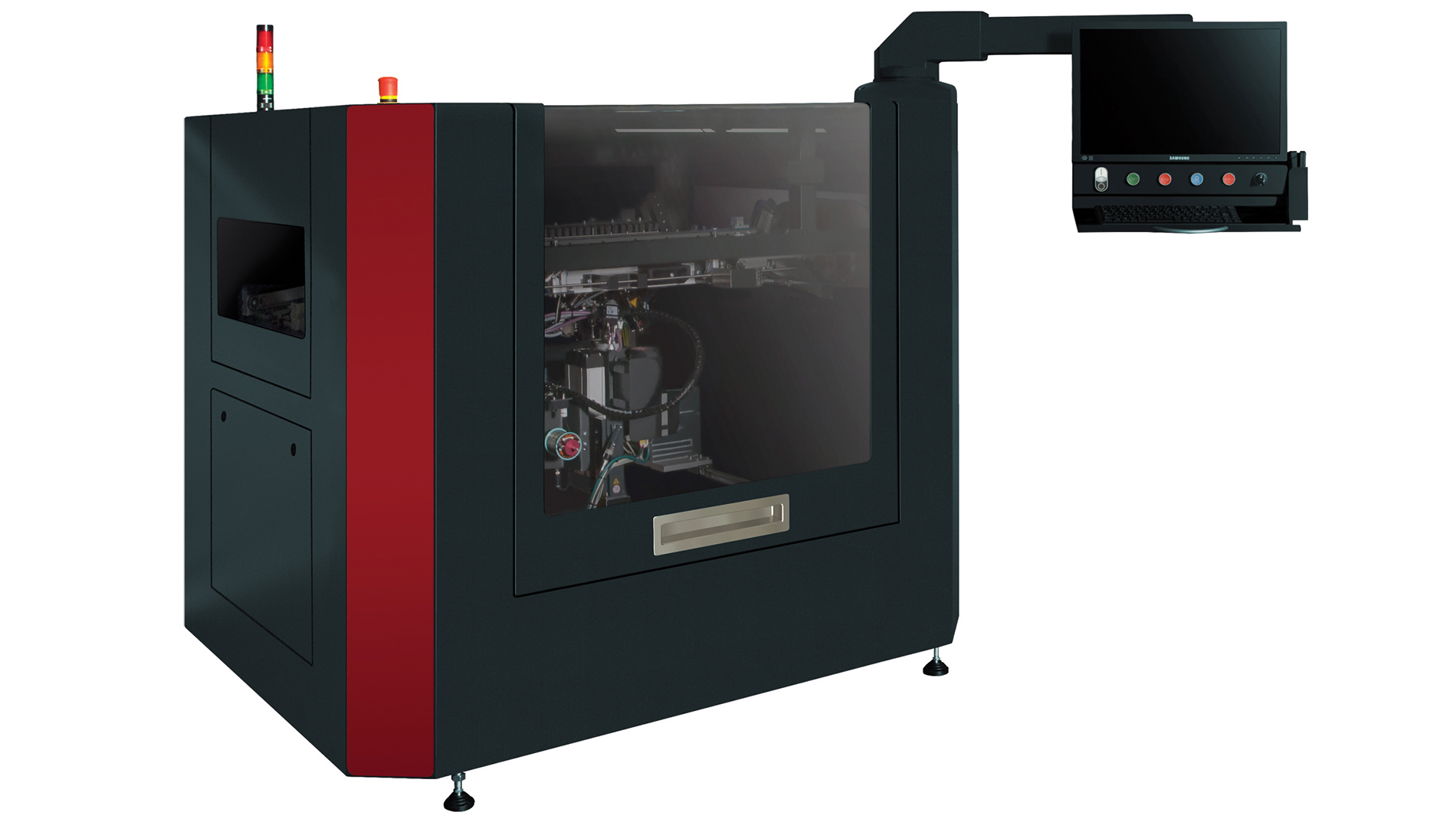 In order to fully avoid manual interventions and rework, the MPS700 works from the bottom side with point to point selective soldering. This machine is designed to meet mass production requirements of quality, reliability and cycle times and is equipped with the following elements:
A compact, rigid and precise soldering iron head with a powerful heating element and a high precision wire feeder. A compact vision system integrated onto the iron head locates the solder point position. The angled approach of the soldering iron and wire feeder allow the head to access many difficult-to-reach joints.
A 4-axis Cartesian robot, optimized for high speed and excellent accuracy, guarantees quick and precise movements.
A conveyor with adjustable width, which meets SMEMA electrical and mechanical standards, ensures quick and easy integration into production lines.
An integrated indexing and clamping system that accurately locates boards and holds them in position.
Another key challenge in today's production is the need to optimize the maintenance and operating costs, and this together with the necessity of having "environment-friendly" production systems. The MPS700 provides significant advantages in the following areas:
Electrical consumption of the machine is between 2-3KW which is much more less than miniwave soldering machines (15-25KW) – no solder pots to continuously heat.
With the soldering iron head, only the needed solder material/flux is used and dross is thus drastically reduced. Also, the flux residues are minimal which reduce greatly the risk of dendrite formation causing PCB quality problems.
The solder alloy is quickly and easily changed by simply swapping the solder spool.

The maintenance is very low as there is no solder tanks, dross or flux residue to clean.
Last but not least, to achieve a good quality in the soldering process, the use of nitrogen in miniwave selective soldering is necessary (consumption of above 10m³ per hour is usual), which results in increasing the operating costs and the complexity of the machine. The mta MPS700 bottom side selective soldering machine is not only a machine that reduces greatly the maintenance and operating costs, but also a machine that is environment-friendly.
"Where traditional miniwaves fail due to the accessibility of the soldering joints, the MPS700 solders with high quality and repeatability even difficult-to-reach joints thanks to the flexibility of our soldering head! In addition, energy consumption and service costs are reduced to a minimum."
Publishing date
11 April 2022
Contact
Tags
PCB
Soldering
Process and equipment systems