Battery modules are being produced in a variety of sizes, formats and quantities - from six or eight to over a thousand cells in a pack - not just in the general upswing in e-mobility. These include not only those for vehicle and drive technology, but also those for battery tools or stationary storage. A large number of new entrants have entered this market worldwide and now have to get to grips with the new technology. In this context, those who can occupy new niches with the shortest "time-to-market" and can also supply small quantities with the highest quality at low cost have a competitive advantage.
"Time-to-market is a key to success in such a dynamic environment as e-mobility. In high-mix/low-volume production, modern bonding systems help newcomers in particular to grow quickly and successfully."
A key step in module production is the electrical interconnection of the battery cells. Several technologies are commonly used for this purpose. For the interconnection of cylindrical lithium battery cells, this is primarily wire bonding. This technology is established in semiconductor technology and is characterized above all by high reliability and service life of the connections. In addition, the flexibility of the connection technology is a major advantage - different cell or module geometries do not require specially manufactured connector types, but are simply realized by wire bonds of different lengths arranged in different orientations.
Added to this is the much higher process robustness - compared, for example, with resistance welding, which is very easy to use - and thus better yield. Compared to laser welding, which is also attractive and is used particularly frequently for higher currents, wire bonding can be realized with drastically lower investment costs, but has comparable productivity and is therefore very economical.
Wire bonders already bring many technical capabilities from the semiconductor technology, such as automatic height and position correction of the exact component position by automatic image recognition, or process tracking of the welding operation. This not only makes the process more robust, but also allows seamless tracking of each individual bond connection even years later.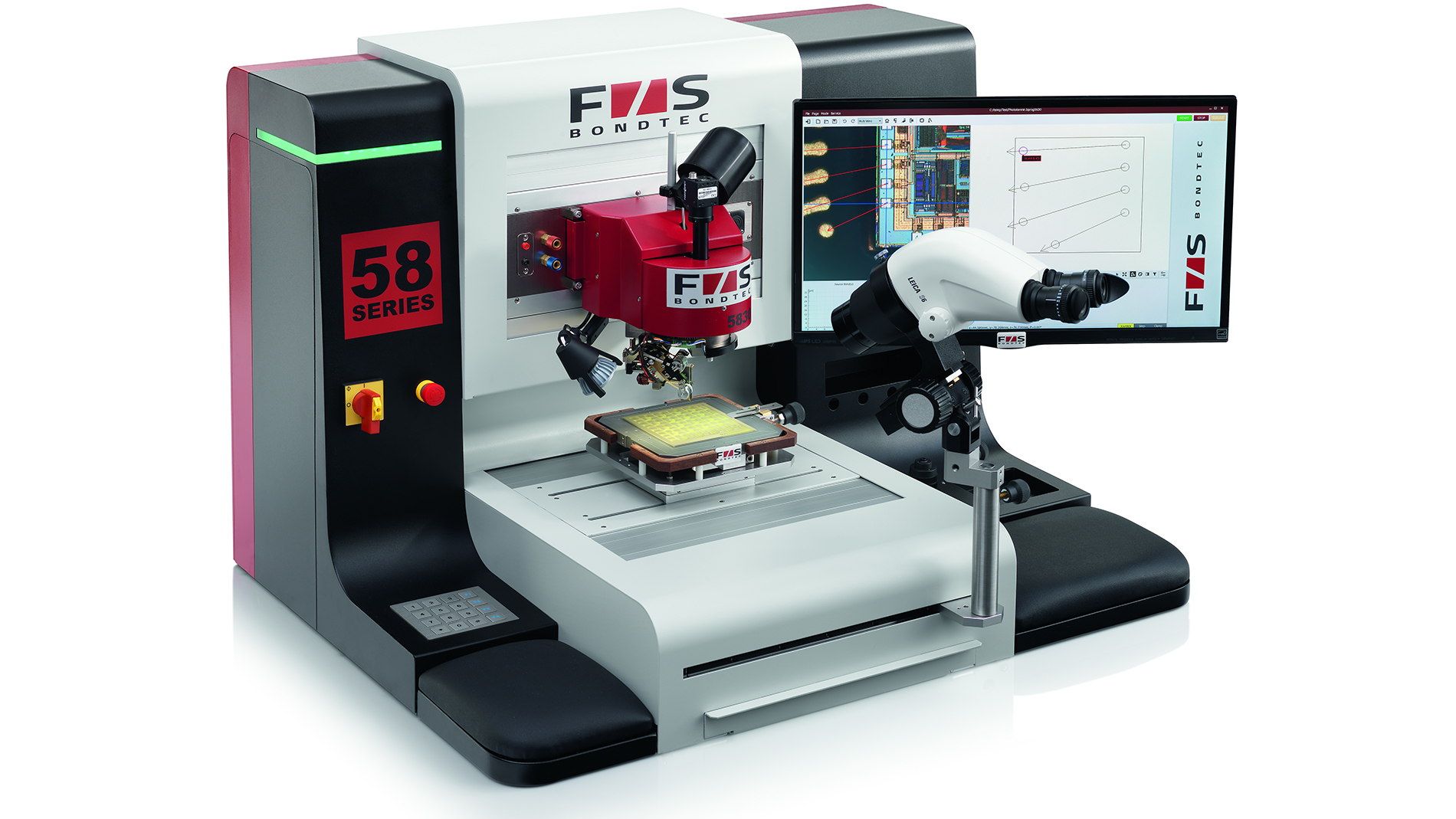 Focusing on market segments where new products and processes are being developed and introduced, F&S BONDTEC has wire bonders in its product range (Fig. 1) that meet the above requirements. They are designed for mid-size quantities and the main focus is on rapid product introduction. For the bonder, this means that on the one hand operator training must be quick and easy, i.e. the software must be user-friendly. On the other hand, however, the bonders are also very quickly convertible to different products and processes. High-mix/low-volume production is therefore no problem.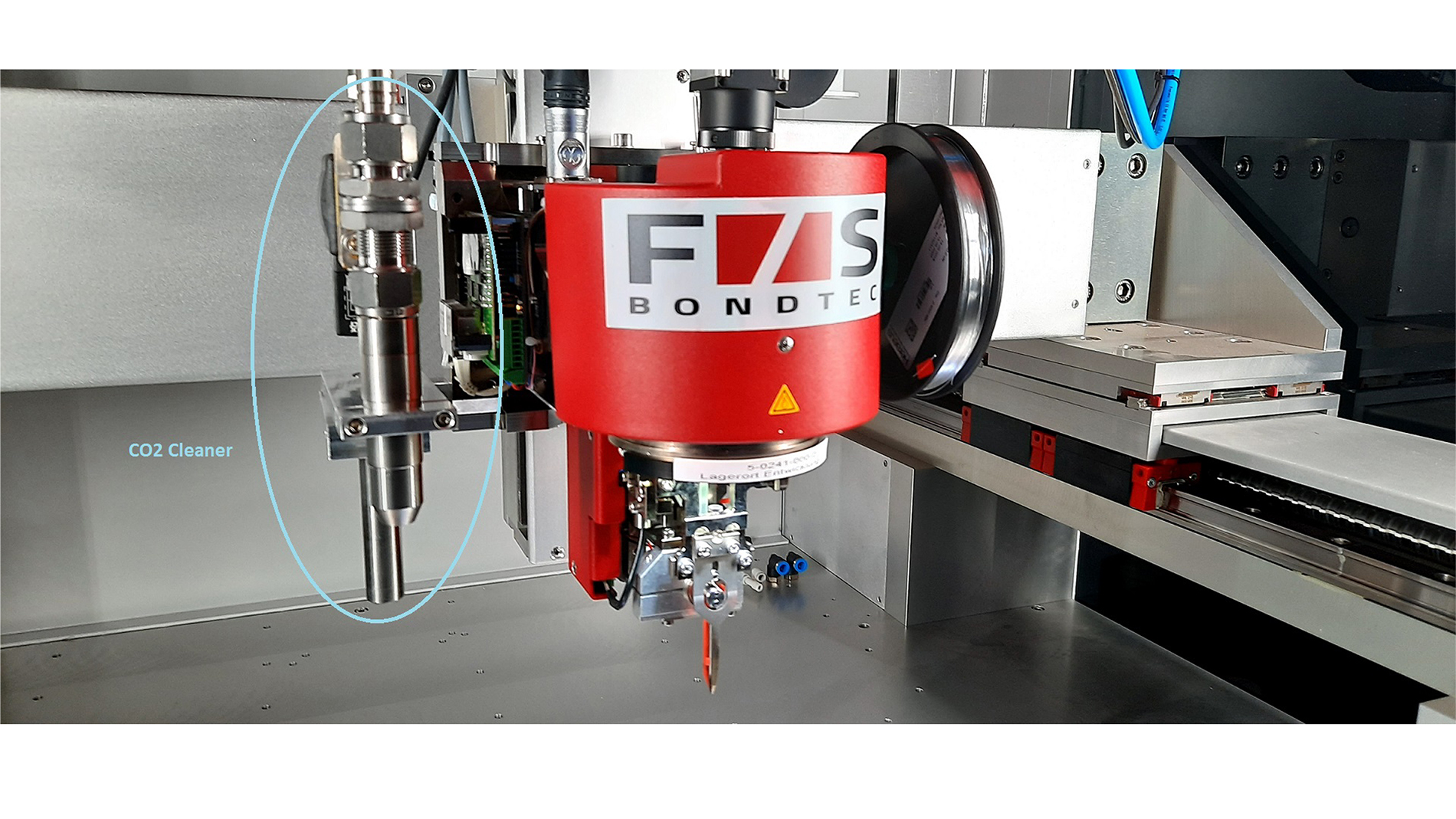 In order to meet tough quality requirements in this respect, an integrated cleaning device with CO2 dry snow blasting has now been developed (Fig. 2). It can be used to remove organic or inorganic contaminants from the bonding surfaces on battery cells. This ensures the bond quality even for difficult cell surfaces that occur due to inconstant delivery quality, changing suppliers or even varying storage conditions. This CO2 snow blasting unit is mounted on the bond head and integrated into the software in such a way that all surfaces to be bonded are automatically cleaned before the bond process in an optimized path control. In addition, other surfaces on the battery module can also be processed, such as housing edges on which seals for lids are to be bonded after wire bonding. In this way, further process steps can be prepared at the same time, saving time and money. This holistic approach to the process is one aspect that makes it easier to enter the market. And this has other aspects as well: Successfully entering the market and growing means not only making the right technology decision, learning and mastering the technology as early as possible, but also having partners who support the development of products and processes in advance with sample bonding, pilot production and training.
Related links
Publishing date
12 May 2021
Tags
Assembly techniques
Cleaning