No matter how high-quality, complex or sensitive a product is, they all have one thing in common: they must arrive safely at their place of use. What sounds simple is often a challenge in practice. In addition to climatic conditions and handling, packaging is of decisive importance. Especially with sensitive electronic components, comprehensive protective measures must be taken during storage and shipping. Is standard packaging sufficient here or is it worthwhile investing in a constructive, customized solution? This is a question that many packaging managers ask themselves. Experts agree: If the transport container and the product are not matched to each other, the risk of damage increases - and thus also the risk of consequential costs. The later a defect is detected, the higher these costs are.
"Every product has its own requirements for the packaging. Often a standard is not enough - and this is exactly where we come in with our SAFESHIELD® portfolio."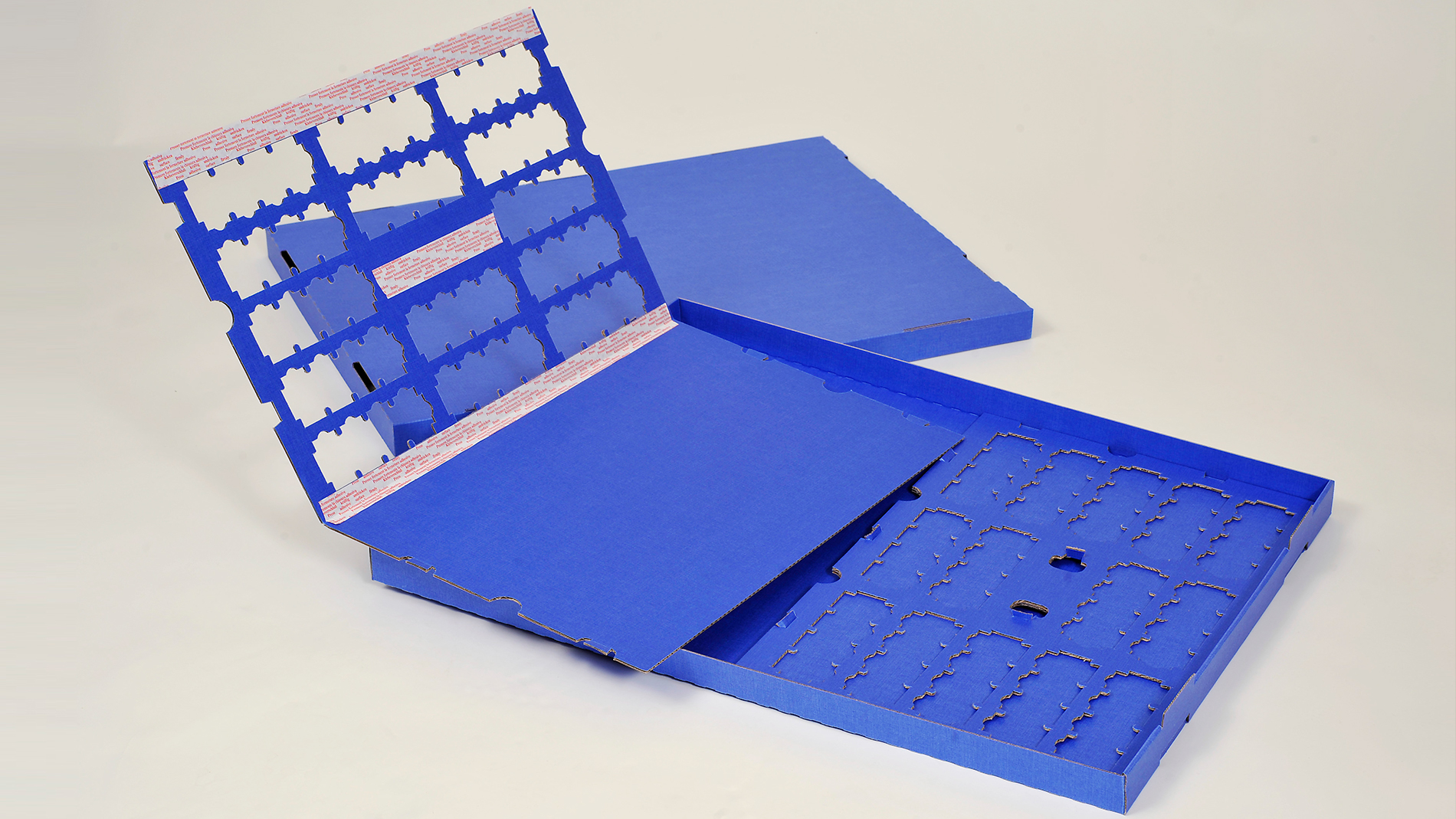 Those who rely on individual solutions benefit in several ways: If the products are optimally fixed in the outer packaging, the risk of transport damage is reduced. In addition, a perfectly dimensioned box can often contain more components than a standard carton, which leads to material savings. Efficient loading reduces handling, storage and freight costs. This also protects the environment, as these measures have a positive effect on CO2 emissions. In addition, the ESD solutions (Fig. 1) are made of corrugated board, a completely recyclable material. After repeated use, this material is added to the waste paper and used for a new paper production. With its FSC® certification, the corrugated board manufacturer also guarantees that its products come from responsibly managed forests.
ESD - The invisible danger
For sensitive electronic components, the packaging requirements go far beyond mechanical protection. This is because another, often underestimated danger lurks here: ESD. Electrostatic discharge (ESD) causes short, high voltage pulses on electronic components. These can shorten the service life of the component or cause it considerable damage. This can be caused by frictional electricity or voltage from outside. In addition to the high mechanical protection offered by the company's design solutions, the products meet all requirements for ESD-shielding packaging. According to the European DIN standards EN/IEC 61340-5-1 and 61340-5-3, a distinction is made between three classes: Dissipative, conductive and shielding packaging. Shielding solutions such as SAFESHIELD® offer the best possible ESD protection. The shielding values against electrostatic discharges and fields for SAFESHIELD® are <0.5 nJ. The cardboard boxes thus offer much higher protection than the standards specify. During production at the EPA (Electrostatic Protected Area) everything is done to avoid voltage and, for example, to dissipate existing voltage. Special workplaces are set up and the safety risk factor of people is controlled by access controls, protective work clothing and conductive shoes and wristbands. When the products leave the EPA, protection should be maintained with appropriate shielding packaging. After all, there are many dangers and fields of tension lurking in the uncontrolled area which can damage the goods.
From the idea to the packaging
How is an individual solution created? During an on-site appointment, not only the products to be packaged are analyzed, but the entire packaging process. Because the goal of a changeover should always be process optimization.

"Often the decisive cost factor in packaging is not the material costs, but the process costs. Here some can be saved by constructional solutions - if the packing is aligned to the needs of production, camp and dispatch."
Even if in times of the Corona Pandemic on-site appointments cannot always be perceived, an analysis can still be carried out in a personal setting through the use of suitable media. The first ideas and approaches are developed together with the customer before the in-house product development starts with the construction. Since all processes - from raw material processing to logistics - are carried out independently at Straub, individual packaging can be realized within a very short time. In principle, individual solutions are worthwhile, especially for larger quantities that are produced on semi or fully automatic machines.
High flexibility even in standard applications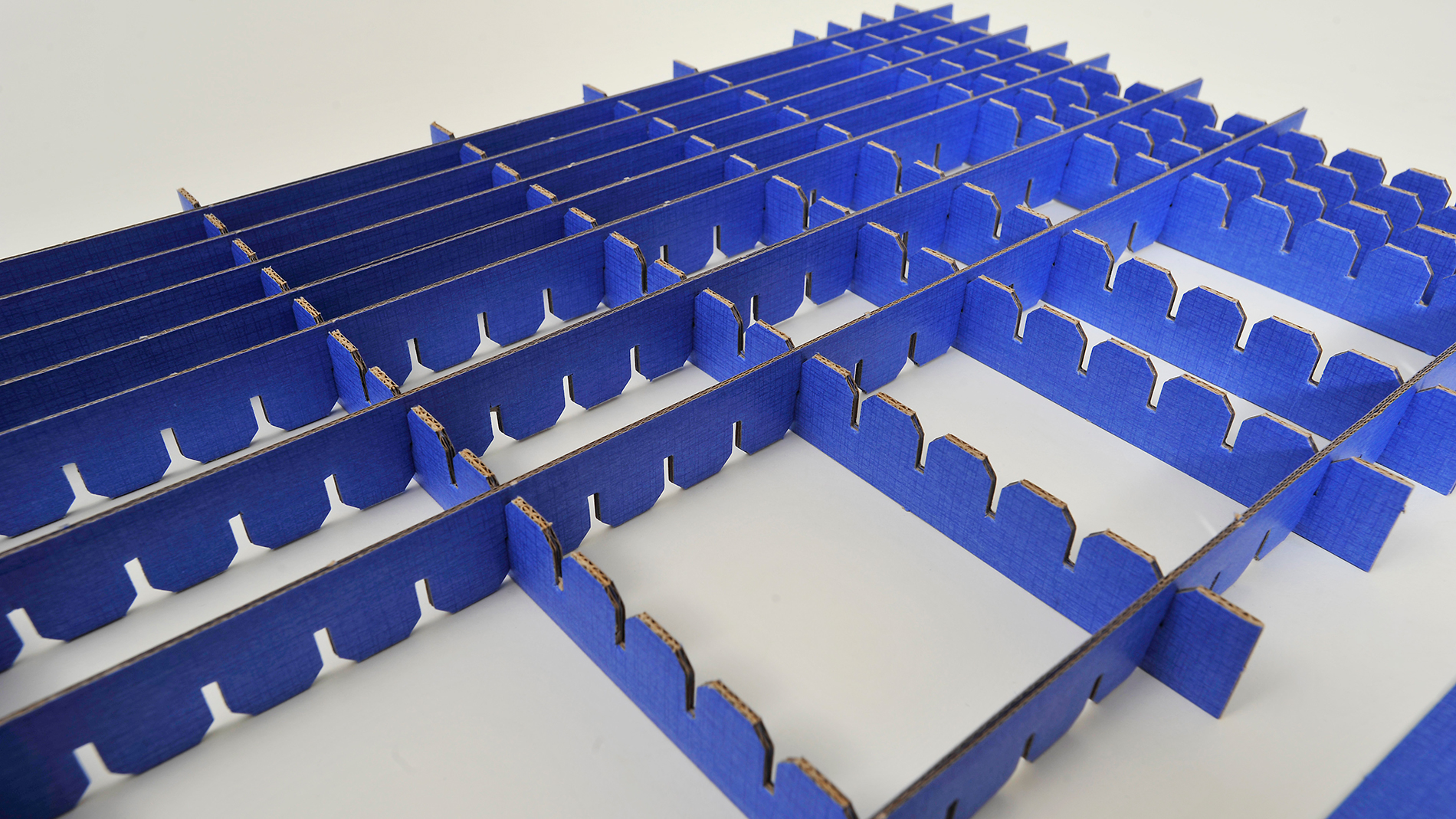 In practice, many customers today rely on a combination of both variants, because even a standard outer packaging with an individual interior provides a high level of mechanical protection. The appropriate inner life ensures that the products are fixed in the outer packaging. Here, the SAFESHIELD® standard range offers a high degree of variability. For example, the dividers of a push-in compartment can be individually arranged as required (Fig. 2). This makes it possible to accommodate a wide variety of components within one outer packaging. The compartments can be supplied ready to be plugged in, so that they are ready for immediate use by the customer.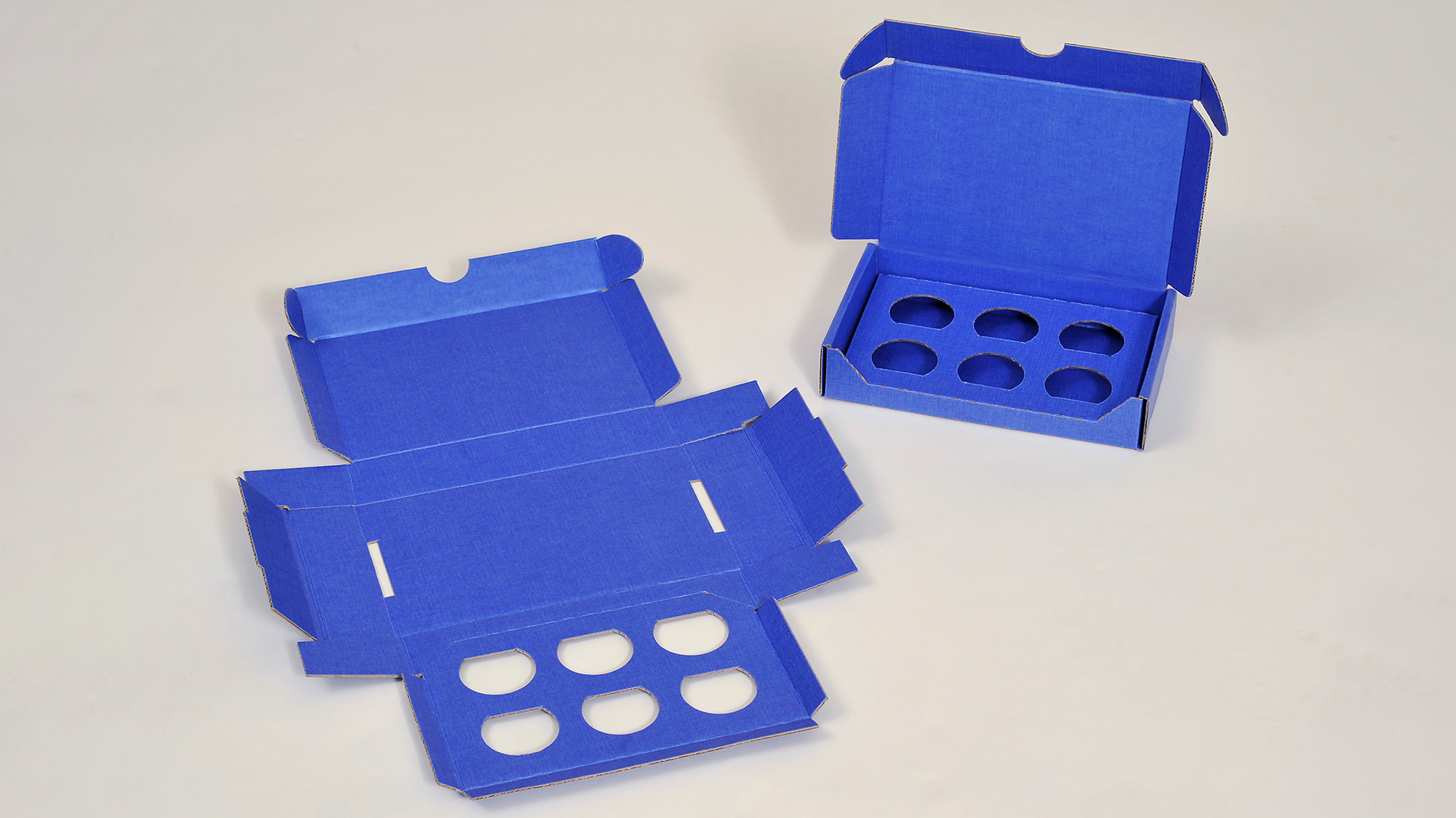 The compartments can be supplied ready to be plugged in, so that they are ready for immediate use by the customer. Such a one-material solution (Fig. 3), in which all components are made of corrugated board, facilitates both handling and disposal. However, the packaging requirements cannot always be met with a pure corrugated board version. For such cases, additional inserts such as nap foam or fixing foil are offered.
Tags
Packaging and transport
Recycling and environmental protection
Storage